OPL & Toronto Rock Athletic Centre announce community collaboration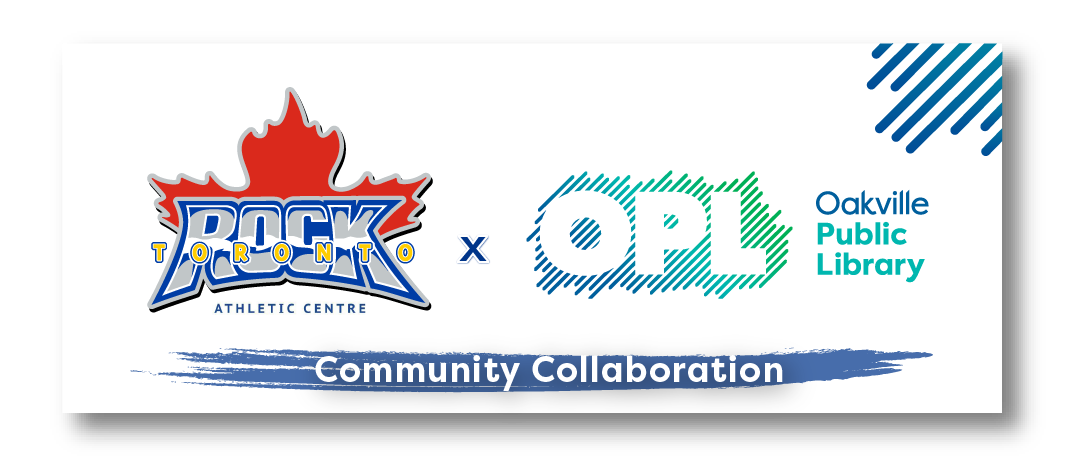 Oakville Public Library (OPL) and the Toronto Rock Athletic Centre (TRAC) are thrilled to announce a new partnership in an effort to build community connection.
Designed to impact youth and families across Oakville, the two locally based organizations will partner to collaborate and create programming that builds a sense of belonging, aiming to enhance well-being, expression, physical literacy and engagement within the community.
OPL is grateful for the support of the TRAC as we inspire Oakville, and create an inclusive, barrier-free environment where all members of the community can access physical and digital resources and services. A champion for sport, youth mental health and community engagement, the TRAC will equip the library with loanable lacrosse equipment for OPL's Sports Kit collection, as well as supporting early childhood reading and family participation in upcoming reading programs and story times. The TRAC is also a community prize sponsor in OPL's 2021 Summer Reading Challenge.
Other future programs will launch later this year, to support ongoing exploration of lacrosse – the sport, its connection to community and Indigenous history and the importance of the game to Indigenous Peoples.
Programs will be announced soon on OPL's website and social media.
We are excited to be working with the TRAC to offer Oakville youth opportunities that combine both literacy and sport in engaging, fun ways. The lendable sports kits provide a great gateway into learning more about the sport of lacrosse, its history and the opportunity to play the game, all with a library card.
Tara Wong, CEO, Oakville Public Library
I know I speak for everyone at the TRAC and the entire Toronto Rock organization when I say how thrilled we are about this new partnership with the OPL. In addition to bringing lacrosse to youth that may not yet have been exposed to Canada's National Summer Sport, the ability to connect to our immediate community here in Oakville through the OPL and its various worthwhile and impactful initiatives is extremely exciting.
Nick Rose, long-time Toronto Rock player & TRAC General Manager
About Oakville Public Library
Oakville Public Library (OPL) strives to fulfill our mission of cultivating discovery and creativity in every phase of life. Our vision is to inspire Oakville, and we are focused on exceptional customer service to meet the needs of the children, youth, adults and seniors utilizing our physical or online services.

OPL focuses on library programming that creates a sense of belonging, enhances well- being, expression, early literacy and engagement in the community. We continue to be agile in our mandate to meet the needs of Oakville residents.

For more information follow OPL on Facebook, Instagram and Twitter (@oakvillelibrary).
About Toronto Rock Athletic Centre
The Toronto Rock Athletic Centre (TRAC) is a world-class, indoor and outdoor sports complex in Oakville, Ontario. The 80,000 square foot, climate-controlled arena houses two state-of-the-art indoor turf rinks, an outdoor artificial turf field, and meeting rooms/space for events. The facility was designed for lacrosse as the official training facility of the National Lacrosse League's Toronto Rock, but can accommodate many other sports as well.

Since opening in December of 2012, the TRAC has hosted provincial, national, and professional level sports tournaments and events as well as conferences, trade shows, and other meeting uses. The facility is also home to TRAC Athletics, a program that provides training, competition, camps, and other lacrosse events for both box and field lacrosse.

For more information visit TRACAthletics.com.
Media Contacts
Naveen Atwal
Manager, Integrated Marketing and Communications
Oakville Public Library
905-815-2042 ext.2031
naveen.atwal@oakville.ca

Paul Tutka
TRAC Athletics Media and Content Manager
Toronto Rock Athletic Centre
416-596-3075
ptutka@torontorock.com

Posted: July 29, 2021 3:30 PM