Celebrate Ontario Public Library Week 2023 with OPL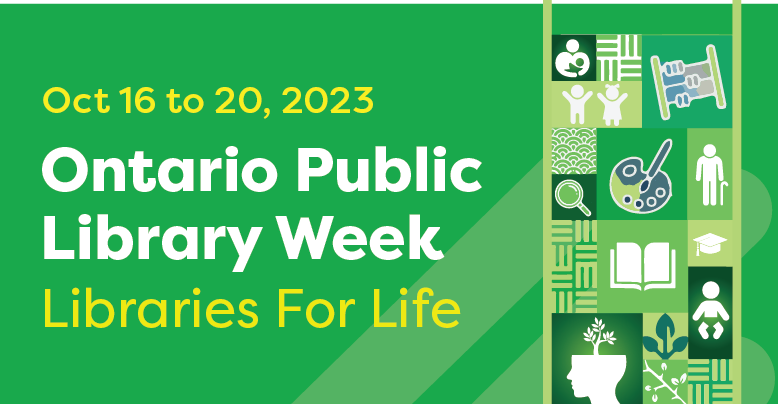 Welcome to one of our favourite times of year – Ontario Public Library Week!   
Ontario Public Library Week (OPLW) runs from October 16-20, and is an annual commemoration to raise awareness of the valuable role libraries play in the lives of people in Ontario.
"Libraries are life," is this year's theme. Libraries shape and enrich the lives of people each and every day. Through all stages of one's life, libraries act as cornerstones of our communities where people of all ages, backgrounds and needs connect with one another, learn new things and discover new interests.
This year for OPLW we are sharing dozens of wonderful stories from our staff and community members, that illustrate the meaningful memories and positive impact libraries have made in each of their lives.
Read our full collection of stories here, and follow along on our Instagram and Facebook pages for more highlights, from October 16 to 20.
We would love to hear from you!
Send us your story by email at oplmarketing@oakville.ca with the subject line "Library Story."
Libraries are essential and for everyone. At OPL, we believe that equitable access to books, digital tools, and engaging conversations holds the power to unlock infinite possibilities for every Oakville resident. We take pride in offering an extensive array of materials and opportunities that cater to diverse interests.

OPL is located on Indigenous lands, and we acknowledge that we are gathering on traditional territory that has been inhabited by the Mississaugas of the Credit First Nation for thousands of years before us. We are grateful for the opportunity to meet here, because we are all treaty people.
Related
Join a Library Program
*Note: Dates and times of programs are subject to change. Visit opl.ca/programs for the latest calendar.
Programs taking place all week
Monday, October 16
Tuesday, October 16
Wednesday, October 18
Thursday, October 19
Friday, October 20

Explore more programs
Ways to enjoy the library
Master a reading challenge
Flex your creative muscles with our free tools
Hear from a bestselling author